News
Snowboard star Shaun White confirms his participation in the halfpipe contest
11.01.2016, 14:31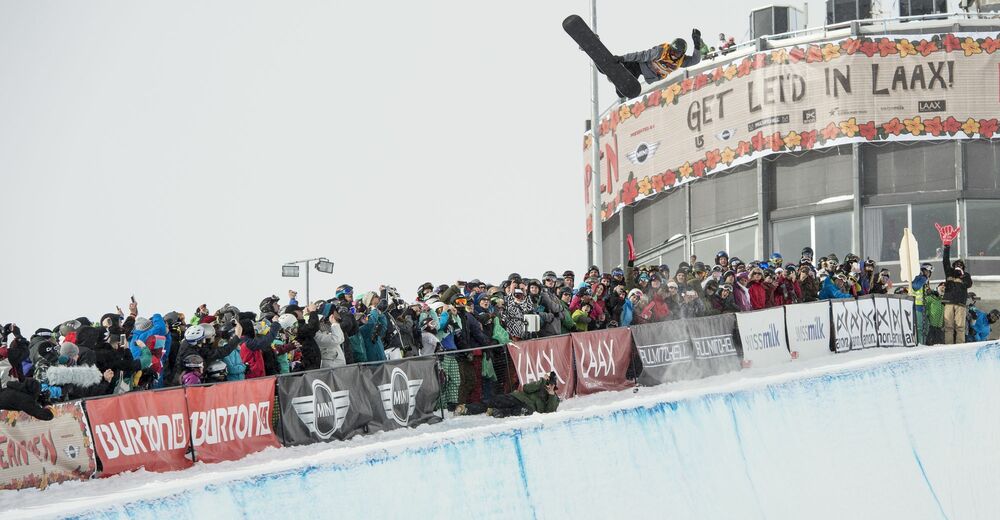 © Marcel_Laemmerhirt
Who's coming? He's coming!
Shaun White, fifteen times X-Games winner and Olympic gold medallist in 2006 and 2010, will compete in the halfpipe contest at the LAAX OPEN 2016. Two weeks later, on 6 February, he'll be back in the Alps again. This time, though, as a businessman at the legendary Opel Air + Style in Innsbruck, which is organised by Shaun White Enterprises. After rather sparse appearances in recent years, the 29-year-old American has decided to take part in selected halfpipe contests this winter – and to win them, as he did in the Dew Tour stop in mid-December 2015. With the LAAX OPEN 2016, he has made a challenging choice in his next target.
Superlatives attract:
The world's largest halfpipe (with its dream dimensions 22-200-6.9 – 22 metres wide, 200 metres long, and with 6.9-metre-high walls). The most prize money ever offered for a snowboard contest: USD 500,000. The ultimate sporting challenge. Many a halfpipe hero can be found among the seeded top riders of the semi-finals. The full Olympic podium of 2014 with Iouri Podladtchikov (gold) and the Japanese Ayumu Hirano (silver) and Taku Hiraoka (bronze), followed by US boy Danny Davis (2015 X-Games winner), the Australian Scotty James (2015 World Champion) and the two Europeans Arthur Longo (2nd at the 2015 US Open) and David Hablützel (3rd at the BEO 2015), to name a few. How exciting will it be, when Shaun White shows off his skills in the new superpipe on Crap Sogn Gion for the first time?! His last appearance in LAAX was in 2009, when he was crowned Overall Winner at the Burton European Open 2009.
Top Rider in Slopestyle and also the ladies
Those chosen for slopestyle will also be putting the best of what there is to offer on show in the international freestyle contest. Strong Northern Europeans such as Stale Sandbech from Norway (winner of the BEO 2015, Olympic silver in 2014), Sven Thorgren from Sweden (3rd at the 2015 X-Games) and Peetu Piiroinen from Finland will be competing against outstanding Canadians such as Mark McMorris (Olympic bronze in 2014), Seb Toutant and Max Parrot (2015 Air + Style winner in Beijing), as well as Yuki Kadono from Japan (2015 US Open winner).
The ladies also provide an elite international starting field at this prime event of the World Snowboard Tour, among them Torah Bright from Australia (Olympic champion) and Arielle Gold from the US (winner of the BEO 2014) in the halfpipe, and Christy Prior from New Zealand (winner of the BEO 2015), Anna Gasser from Austria (2nd at the 2015 US Open), Cheryl Maas from the Netherlands and Sina Candrian from Switzerland in slopestyle.
Both mountain and valley have been seized by the LAAX OPEN fever. All sporting events on Crap Sogn Gion are free to watch. As is the creative festival in the rocksresort. A week of LAAX OPEN. Pure freestyle. LAAX roots.